From Bright Pattern Documentation
About
Bright Pattern Contact Center omnichannel cloud call center software integrates with Oracle Service Cloud (formerly called Oracle RightNow) applications to help you drive agent productivity, improve customer experience, and reduce agent load.
Similar to Bright Pattern software, Oracle Service Cloud applications offer talk services, analysis, and reporting. Oracle Service Cloud interfaces directly with Bright Pattern, so that contact centers using the cloud CRM can take advantage of Bright Pattern's features without losing their existing data records and contacts.
This Bright Pattern Contact Center Oracle Service Cloud Integration Guide provides instructions for setting up your Bright Pattern Contact Center to function in an integrated manner with your Oracle Service Cloud applications. In addition, this guide offers detailed descriptions of Oracle Service Cloud integration features, including Oracle Service Cloud data-driven interaction routing, the integrated Agent Desktop, screen-pop, activity history, and click-to-call functions.
Features and Benefits
Oracle Service Cloud integration provides everything you need to drive agent productivity, improve customer experience, and reduce agent load.
Drive Agent Productivity
Oracle Service Cloud integration provides an easy-to-use Agent Desktop user interface designed to reduce agent training requirements. Seamless integration with Oracle Service Cloud customer relationship management (CRM) applications means that agents and supervisors are able to use the same Oracle Service Cloud contacts and tools with which they are familiar, through Bright Pattern's efficient, streamlined user interface.
Helpful features:
One-click dialing with click-to-call capability saves time for both agents and administrators. Because it works out of the box, there is no need to modify forms before getting started.
Screen-pop functionality saves time as well--customer data is "popped" to the agent's screen, showing all Oracle Service Cloud data associated with the customer. The agent does not need to search the customer's records to learn more about the case or ticket.
Activity history is displayed front and center, showing agents the context of past conversations with customers. Agents can resolve calls faster when such interaction history and call history is saved, complete with notes, dispositions, and call recordings.
The integrated Agent Desktop user interface works with USB headsets via a built-in softphone or through any PSTN phone number. Both options can be used by virtual agents working from home.
Supervisors can track agent performance with real-time supervision tools and historical reports.
Supervisors can also inform teams about their productivity in real-time with wallboard displays.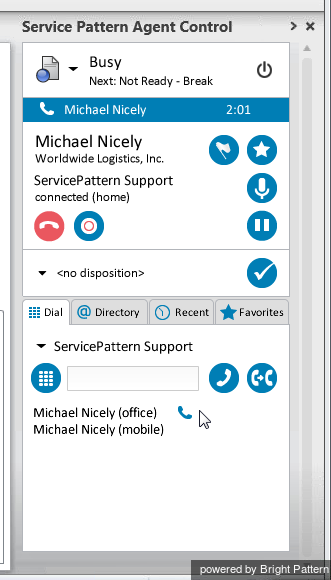 Improve Customer Experience
Oracle Service Cloud customer data is pushed to the integrated Agent Desktop, enabling customers to be identified automatically according to their ticket number or any other data saved in Oracle Service Cloud applications. Moreover, customers keep their place in queue, ensuring that priority customers are identified as such and are served faster.
Built-in call and screen recording, monitoring, and grading quality management tools ensure maximum service quality. For example, a customer does not have to repeat information on transfer because the information follows the call through transfers and is saved to the activity history.
To ensure the best service quality possible, agents and supervisors can routinely assess customer satisfaction by using built-in post-transactional surveys attached to both service and agent performance reports.
Reduce Agent Load with Automation
Integration with Bright Pattern also provides access to Bright Pattern scenarios, which automate frequent requests into self-service using Interactive Voice Response (IVR) technology. With call scenarios, customers are prompted to provide information for their case, and their information is used to direct their case to the appropriate agent, voicemail box, or service queue. Administrators can use call scenarios to design custom prompts for any service, while agents can use call scenarios to search, create, and update data in Oracle Service Cloud.
Reduced agent load also means fewer abandoned calls and added convenience for customers. Virtual queuing functionality allows customers to receive a call back at a later time, so they are not waiting on hold endlessly during peak call times. Abandoned calls can be captured in a preview campaign, and customers can be reached later during less busy hours. Customers also have the option to leave a voicemail and receive a call back later.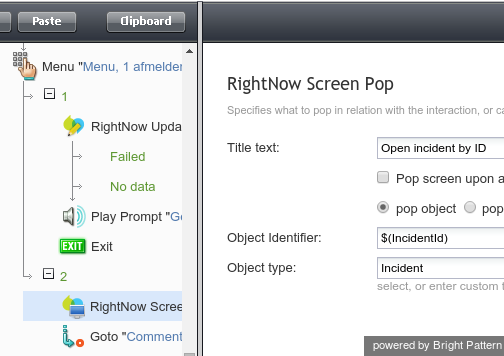 Next >
Next >