From Bright Pattern Documentation
How to End a Chat Session
A chat session may be terminated either by yourself or by the customer. If the customer terminates the session, you do not need to do anything in order to end this session on your side.
If you choose to terminate the chat session first, click the End Chat button

that appears in the Contact Info Panel or at the top of the Agent Desktop upon mousing over the customer's name.

Depending on your contact center practices and the type of service, your state will either change to Ready or you may be given time to wrap-up the work related to the chat session that has just ended. In this case, your state will change to After Call Work. For more information, see section How to Wrap up After Call Work.
Blacklisting Chat Clients
Starting with version 3.14 of Bright Pattern Contact Center software, agents handling chat interactions can "blacklist" a chat client (i.e., customer) by typing a command directly in the chat dialog window. For example, if a customer is sending inappropriate material to the agent, is misbehaving, or is clearly sending spam material, the agent can instantly end the chat session and prevent the customer from initiating future chats.
This functionality works for every type of chat (web chat, SMS text, mobile app messaging, and so forth) and is carried out by the agent working within the Agent Desktop application.
How to Ban a Chat Client
To end a chat and ban a customer from chatting again, the agent simply types /ban in the text entry field of the chat dialog window. The command instantly ends the chat, and the agent is placed in the After Call Work (ACW) state. The customer can no longer initiate chats, texts, other other such messages.
When an agent uses the /ban function, it affects the customer's web browser, not a website. That is, a blacklist cookie is added to the browser and the session is ended so the customer can no longer chat with agents unless the cookies are cleared.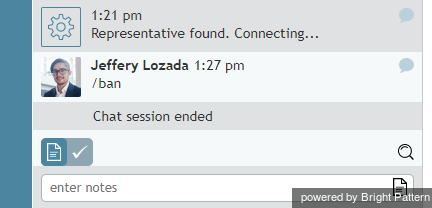 < Previous | Next >