From Bright Pattern Documentation
Disposition Button
The Disposition Button component is a button, which, when clicked, will finish the interaction processing and insert the specified disposition into the call results. Note that if this button is pressed during a live call, the call will be released.
To add this component to your activity form, hold and drag the component from the component menu on the left, onto the blank form on the right.
Note: This control is supported in version 5.x for forms created in the Form Builder application version 3.x.

Settings
Settings for the Disposition button component can be specified as follows.
Style
Style is way that the text will appear for this element. You can select or define the text style for this element by choosing from the following options:
<< None >>
Text
Title
Label
Hyperlink
Note
Label text
Label text is what is shown on the button itself, in the Agent Desktop application. Enter text to be displayed on the button.
Disposition
Specify the disposition that will be stored in the call results when this button is clicked.
Click select disposition, choose the service/campaign, and select the desired disposition.
Validation URL
When the parameter is defined for the Disposition button, the URL is called when the Disposition button is clicked. If anything but "200 OK" is received, an error message is displayed: The disposition selected is not allowed.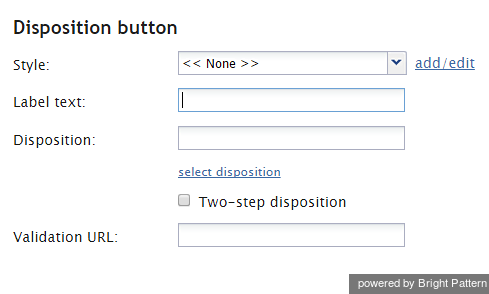 < Previous | Next >